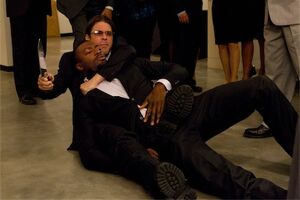 Dr. Wes Abernathy is an alias, often used by Eliot Spencer in the television series Leverage.
Background
Edit
Unlike some of Eliot's other aliases, Dr. Wes Abernathy is a real person. It was an identity stolen back in 2005 during "The Rashomon Job". Eliot stole the identity from Dr. Abernathy trying to get into the Boston Museum of Art & Antiquities.
Later, Eliot would use this identity to serve as a prison doctor at Rockford Private Correctional Facility in The Jailhouse Job.
Appearances
Edit
Three actors have played the role of Dr. Wes Abernathy:
Ad blocker interference detected!
Wikia is a free-to-use site that makes money from advertising. We have a modified experience for viewers using ad blockers

Wikia is not accessible if you've made further modifications. Remove the custom ad blocker rule(s) and the page will load as expected.