"
Nothing's more dangerous than the confused when they think they know something.
"

— Tobey Earnshaw
After one of Parker's aliases (Alice White) is called for jury duty, Nate forces her to attend to learn how to follow instructions and consider other people. While there, she notices some strange things at the trial. It seems someone is trying to buy a favorable verdict, but not if the Leverage team can steal it first.
The Clients
Edit
The Marks
Edit
Alice White (Parker): This character became the first long-term alias used by Parker.
Olivia Smyth-Patel (Sophie)
Joseph Miller (Hardison), an attorney
Episode Notes
Edit
In addition to Alice White, the members of the jury are:
Peggy Milbank: A nutritionist who befriends Parker.
Andrew Higgins: The jury foreman removed after Parker fakes a theft.
Gretchen Meyer
Charlie O'Flanders
Patricia Beston: An older woman, who has not seen her family in years.
Bobby Sweeney

Owen Keller
Craig Avelar
Gwynne Evans
Collette Wilson
Trevor Darne
Alexis Fletcher (Alternate)
Paul Richards (Alternate)
In this episode, Eliot mentions that he plays chess, but in The Queen's Gambit Job, he questions its status as an Olympic sport.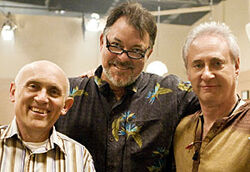 Former Star Trek: The Next Generation stars Jonathan Frakes, the episode's director, and Brent Spiner (William Quint) along with Armin Shimerman from Star Trek: Deep Space Nine, reunite in this episode.
Timothy Hutton (Nate Ford) and Lauren Holly (Tobey Earnshaw) previously worked together in the 1996 movie, "Beautiful Girls".
Episode Media
Edit
Ad blocker interference detected!
Wikia is a free-to-use site that makes money from advertising. We have a modified experience for viewers using ad blockers

Wikia is not accessible if you've made further modifications. Remove the custom ad blocker rule(s) and the page will load as expected.