The Governor Hotel is a hotel in Portland, Oregon that serves as the base for the show, and is occasionally used for location shooting. It was also the host of the Leverage Convention Con-Con in 2010.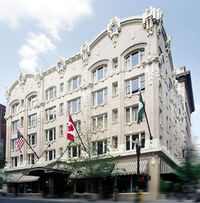 The hotel was built in 1909, opening as the Seward Hotel. It is built and furnished in the arts and crafts style, a simple-clean lined style made famous by Charles and Henry Greene and William Morris. After closing, the Seward Hotel fell into disrepair, eventually becoming a haven for squatters during the 1980's. During this period, Gus Van Sant used the hotel as a location for his film
My Own Private Idaho
.
The hotel was reopened in late 1992, when it was extensively renovated and enlarged by connecting it to the adjoining Princeton Building. The Governor Hotel is listed on the National Register of Historic Places.
In addition to serving as an informal base for the show, The Governor Hotel has served as a set in a number of episodes. The ballroom has been used as an art gallery in The Two Live Crew Job and the room where Archie trained Parker in The Inside Job, while smaller function rooms were used in scenes such as the meeting between Sterling and Nate in The Zanzibar Marketplace Job. The lobby, elevator and top floor featured prominently in The Maltese Falcon Job, where Sterling took his infamous elevator ride, and where the team "stole" a corrupt mayor. Recently, the Leverage production team renovated the hotel's indoor pool for Eliot and Hardison's meeting with Damien Moreau in The Big Bang Job.
Ad blocker interference detected!
Wikia is a free-to-use site that makes money from advertising. We have a modified experience for viewers using ad blockers

Wikia is not accessible if you've made further modifications. Remove the custom ad blocker rule(s) and the page will load as expected.