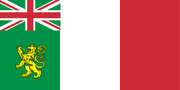 San Lorenzo is a fictional country used in the television series Leverage.
Background
Edit
San Lorenzo is a small country, formerly a British colony, which became independent in 1969. Since the initial open elections, the country became more of a tyranny under President Ribera. Since Damien Moreau bought the election for Ribera, Moreau has his thumb on the government, allowing it to be a safe haven for himself and his ill-gotten assets.
Organizations
Edit
San Lorenzo Parliament
San Lorenzo International Airport
Channel Six News
Notable Figures
Edit
President Edwin Ribera
General Lawrence Flores
Michael Vittori
Notable Locations
Edit
The Tombs
The Parliament
San Lorenzo International Airport
Episode Appearances
Edit
San Lorenzo is Italian for Saint Lawrence.
Ad blocker interference detected!
Wikia is a free-to-use site that makes money from advertising. We have a modified experience for viewers using ad blockers

Wikia is not accessible if you've made further modifications. Remove the custom ad blocker rule(s) and the page will load as expected.