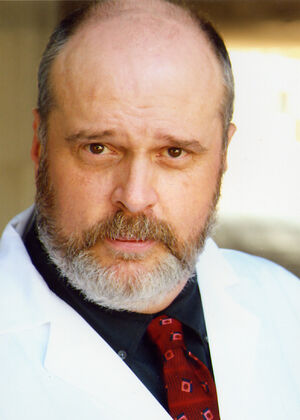 Rick Overton (b. 1954) plays FBI Agent Taggert in the series Leverage.
Biography
Edit
Overton is an American actor who has appeared in episodes of The Edge, Seinfeld, Lois & Clark: The New Adventures of Superman, The Single Guy, Married with Children, Mad About You, Charmed, The Secret Adventures of Jules Verne, It's Like, You Know..., My Guide to Becoming a Rock Star, My Wife and Kids, and The Office. He has also appeared in movies, such as Young Doctors in Love, Gung Ho, Odd Jobs, Modern Girls, Willow, Earth Girls Are Easy, A Sinful Life, Blind Fury, Galaxies Are Colliding, Groundhog Day, The High Crusade, Shoot or Be Shot, Eight Legged Freaks, Northfork, Serial Killing 4 Dummys, Off the Lip, Keep Your Distance (with actor Christian Kane), The Astronaut Farmer, Chasing Robert, A Plumm Summer, So Long Jimmy, A Fork in the Road, The Whole Truth, and The Informant!. He'll also be seen in future movies, including Jelly and Dinner for Schmucks.
Appearances
Edit
External links
Edit
Ad blocker interference detected!
Wikia is a free-to-use site that makes money from advertising. We have a modified experience for viewers using ad blockers

Wikia is not accessible if you've made further modifications. Remove the custom ad blocker rule(s) and the page will load as expected.