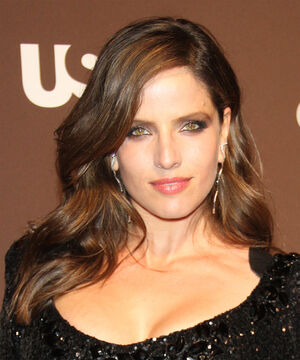 Noa Tishby is an actress who plays the character Mikel Dayan in the television series Leverage
Biography
Edit
In her homeland of Israel, Noa Tishby's name is synonymous with stardom. An actress and a producer, Tishby got her first big break at 16 playing the lead in the hit original musical "King David" for which she won national recognition.
She got a full scholarship with The National Museum of Arts and went on to play the lead in the nation's highest rated prime-time drama "Ramat Aviv Gimmel" (1995). She became a household name and appeared in numerous TV shows and films, among them the critically acclaimed _Hamesh Dakeot Bekinka(2001)_ (aka "A Five Minutes Walk"). Her album "Nona" was the first English-speaking album released by an Israeli artist and also the first to hit number 1 on the nation's top-selling album charts. The album was released in Japan by Virgin Records. She won critic's hearts playing "Anita" in the Israeli National Theater production of "West Side Story". Her image adorns billboards, entertainment and fashion magazine covers, and she was voted "Sexiest Woman in Israel" in 2007.
In the U.S, Noa appeared in The Island (2005) with Ewan McGregor and Scarlett Johansson for director Michael Bay. She also landed leading roles in the indie films Fatwa (2006) and Connecting Dots (2003) which won the first prize in The NY and LA Independent film festival.
As a producer, Tishby made history selling the first Israeli TV show to an American network - "In Treatment" (2008) to HBO. She is executive producing it alongside Mark Wahlberg. Gabriel Byrne and Dianne Wiest star in this revolutionary Emmy and Golden Globe-winning drama.
Tishby recently set three additional TV projects in the US, her company "Noa's Arc" is developing numerous TV, film and theater projects from Israel the world.
Born in Tel Aviv, Noa now resides in Los Angeles.
Inside References
Edit
Noa also appeared in the Star Trek:Enterprise episode "Harbinger".
Ad blocker interference detected!
Wikia is a free-to-use site that makes money from advertising. We have a modified experience for viewers using ad blockers

Wikia is not accessible if you've made further modifications. Remove the custom ad blocker rule(s) and the page will load as expected.