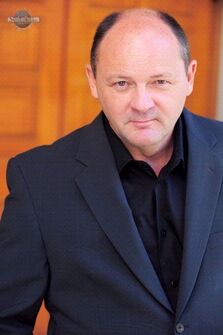 Marty is a versatile actor working in television, film, and commercials for 20 years. His credits on American television include recurring roles on the critically acclaimed series Southland, Brothers and Sisters, ER and on the long running daytime soap General Hospital. His numerous guest star appearances include Dexter, Mad Men, Monk, The New Adventures of Old Christine, My Name Is Earl, Dirt, 24, Boston Legal, Becker, and Beverly Hills 90210. His film credits include The Italian Job, Dreamgirls, and Made of Honor. Marty is also an accomplished stage actor and a member of The Actors Studio. Marty also works as teacher and a coach preparing actors for television, film, and theater performances. He is a member of Screen Actors Guild (SAG) and the American Federation of Television and Radio Artists (AFTRA). Marty speaks both Italian and Spanish and is a longtime resident of Los Angeles.
He played a guest role in The Zanzibar Marketplace Job.
External Link
Edit
Ad blocker interference detected!
Wikia is a free-to-use site that makes money from advertising. We have a modified experience for viewers using ad blockers

Wikia is not accessible if you've made further modifications. Remove the custom ad blocker rule(s) and the page will load as expected.