Laroque is a Doctor who works at the hospital where Corporal Robert Perry was being treated after he got shot in Iraq.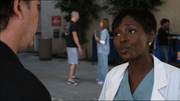 She originally disliked Nathan Ford, stating that people showing up to help them isn't the way the world works although Nate and the Leverage Consulting & Associates team soon changed her mind when they brought her and Corporal Perry money that would help pay for Perry's rehab and treat future servicemen and women injured while serving aboard.
Ad blocker interference detected!
Wikia is a free-to-use site that makes money from advertising. We have a modified experience for viewers using ad blockers

Wikia is not accessible if you've made further modifications. Remove the custom ad blocker rule(s) and the page will load as expected.