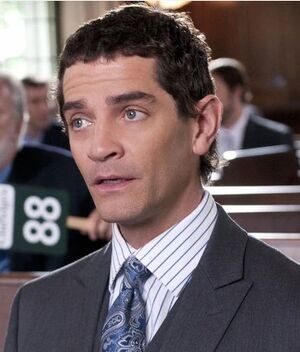 John Douglas Keller is an art and antiquities dealer trading in smuggled goods, and the right hand of Damien Moreau.
Keller is known for using small children to carry illegal artifacts, specifically from Iraq and Afghanistan, through American and European customs, to be sold on the black market. Moreau built his financial empire from this smuggling. This made Keller one of Moreau's most important agents.
Unfortunately for Keller, the Leverage team discovers he is a royal fetishist, with an interest in Scottish nobility, and buys historic royal memorabilia. Knowing this, the team draws him into their con with the promise of a lost barony. Sophie Devereaux while using her alias as the Duchess of Hanover, elects to run The Mummy's Tiara scam, with a forged private journal of the mistress of King George III. The twist is that Keller is scammed into believing Sophie can deliver a Baron title in exchange for exposing himself as an antiques smuggler.
Aftermath
Edit
Keller is arrested in transit to Rome, when he is caught smuggling stolen 17th century Russian Icons. Keller's money transaction was later found to intersect with Slapshot Investments, and Mark Vector.
Residence
Edit
England, presumably London
John Douglas Keller is played by James Frain.
Ad blocker interference detected!
Wikia is a free-to-use site that makes money from advertising. We have a modified experience for viewers using ad blockers

Wikia is not accessible if you've made further modifications. Remove the custom ad blocker rule(s) and the page will load as expected.