Ghostbusters is an inside reference used in the television series Leverage.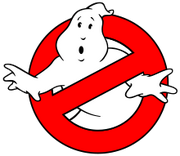 Background
Edit
Ghostbusters is a 1984 American comedy film written by co-stars Dan Aykroyd and Harold Ramis about three eccentric New York City parapsychologists-turned-ghost capturers. The film was released in the United States on June 8, 1984 and like several films of the era, teamed Aykroyd and/or Ramis with Bill Murray. It was produced and directed by Ivan Reitman, who also directed Stripes, and stars Murray, Aykroyd, Ramis, Rick Moranis, Sigourney Weaver, Annie Potts, and Ernie Hudson. The film made $291,632,124 in the United States alone, the equivalent of $538,260,000 in 2010 money, ranking the film as the 32nd biggest grossing in U.S. box office history after adjustment for inflation.
Episode References
Edit
Ad blocker interference detected!
Wikia is a free-to-use site that makes money from advertising. We have a modified experience for viewers using ad blockers

Wikia is not accessible if you've made further modifications. Remove the custom ad blocker rule(s) and the page will load as expected.