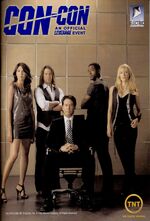 Con-Con: An Official LEVERAGE Event was the name of the first and only fan convention for the show Leverage. It was held March 19-21, 2010 at The Governor Hotel in Portland, Oregon, where several episodes had been filmed. It was organized by MBL Entertainment, LLC with sponsorships from Electric Entertainment, TNT, IF Magazine and FilmBuff.
Con-Con was not only the first Leverage convention, but the first convention for any TNT series. Portions of the panels were streamed live at IF Magazine's website. Events filmed were used to publish a DVD of the convention.
A second convention was originally schedule for the following year but was cancelled due to insufficent ticket sales.[1] In an e-mail sent to people who signed up for the newsletter, the convention organizers stated that they were working on setting up a few smaller events so that people who had non-refundable airline tickets would still have some Leverage-related things to look forward to, and encouraged people who could change the flight dates to attend one of Christian Kane's concerts. These events were dubbed "Fan-Con".
External links
Edit
Ad blocker interference detected!
Wikia is a free-to-use site that makes money from advertising. We have a modified experience for viewers using ad blockers

Wikia is not accessible if you've made further modifications. Remove the custom ad blocker rule(s) and the page will load as expected.