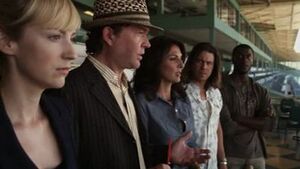 Bob Gibson is an alias used by Nathan Ford in the television series Leverage.
Background
Edit
Nathan typically uses this alias when he needs to be clearly a dirty business man. He will usually attach himself to "The Mark" as either "The Inside Man" or "The Outside Man". He often talks in a modified southern throaty drawl. In both mentions, Bob Gibson is not an expert of the particular industry surrounding the con, but rather an outside investor looking to make money, usually from the Mark.
Bob Gibson is a former major league baseball pitcher who played for the St. Louis Cardinals.
Ad blocker interference detected!
Wikia is a free-to-use site that makes money from advertising. We have a modified experience for viewers using ad blockers

Wikia is not accessible if you've made further modifications. Remove the custom ad blocker rule(s) and the page will load as expected.